English/Deutsch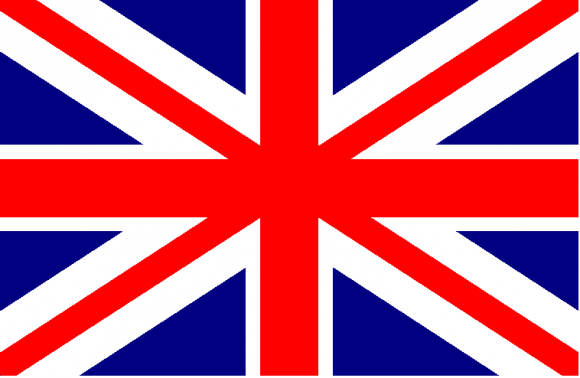 General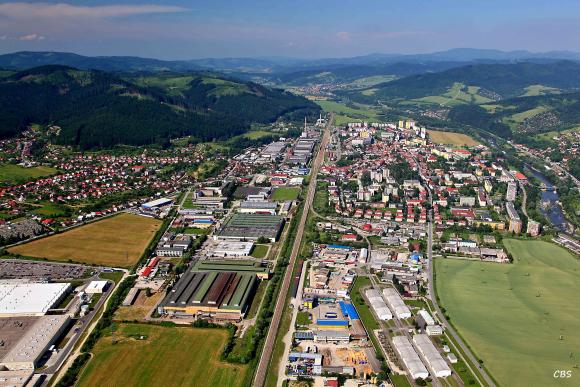 The city of Kysucké Nové Mesto (358 MSL) is located in the northwest of Slovakia, just  on the right bank of the Kysuca River. Geologically, this area is surrounded by the Javorníky Mountains and Kysuce Highlands with its highest peak, the Ľadonhora Hill (999 MSL). The Tábor Hill with its 697 MSL is the dominant feature of the city. The city covers an area of 26,41km2 with city population of 15 163 inhabitants. The first written recorded history is dated back to 1254.
Architecturally most treasured monuments of Kysuce region is the historical core of the city, as it serves as unique one of a kind historically preserved. The houses and their remarkable arcades were built in the 17th century. The house No 164, originally built in renaissance style in the early 17th century, is located in the middle of the city square. The city square was most notated as a place of seasonal markets and annual St. Jacob the Less fair days. The St. Jacob fair days tradition is dated back to 1666 and remains a traditional and cultural part of the city life. The statue of St. Johannes Nepomuk is located in the middle of the town square and is dated back to 1761.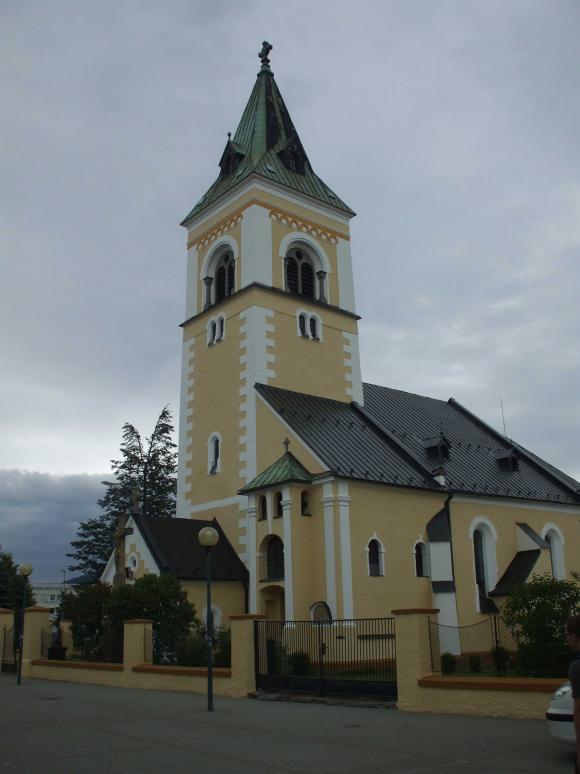 The St. Jacob Church was built in 1284 in Gothic style. It is listed as the oldest church in the Kysuce region.  The church was destroyed in 1431 by the Jan Hus troops, later by the Great fire of Kysucké Nové Mesto in 1904. The church was rebuilt in Neo Roman style in 1906. The calvary statue dated of late 18th century is located in the side chapel of the church.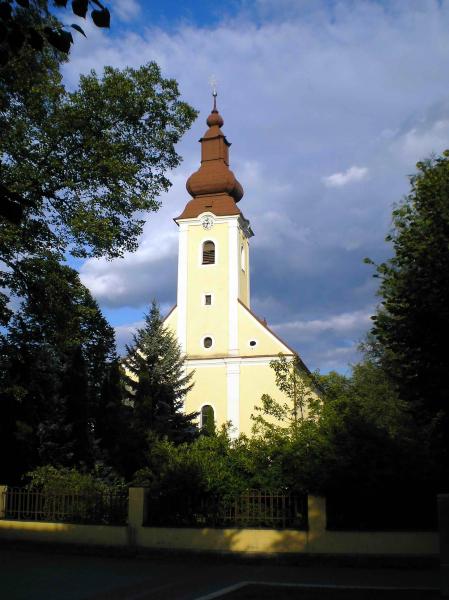 The former chapel of St. Virgin Mary was rebuilt as St. Virgin Mary Church in early 19th century. The clergy house was destroyed by the Great fire of Kysucké Nové Mesto. Later, it was rebuilt in 1904.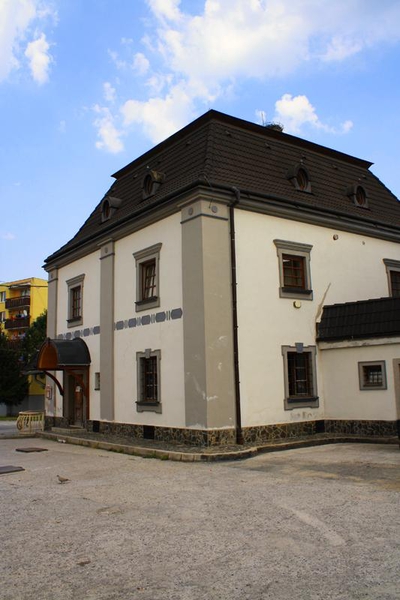 The old-town brewery "U Bociana" is located on the No 4 Jesenský Street. It was built in late 17th century. The originally late renaissance building with well-preserved sgraffito remnants was rebuilt in upcoming decades.  The houses on Belanský Street were built in Baroque style in early 17th century.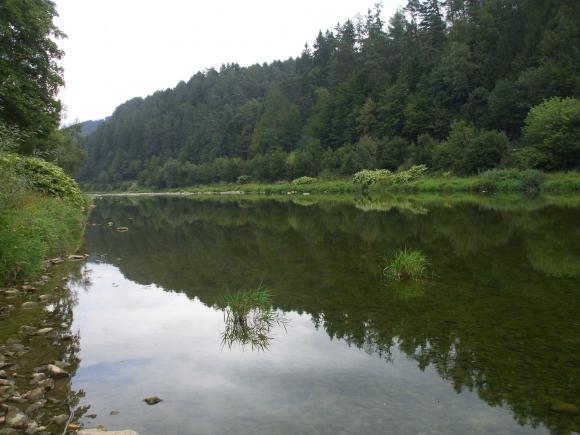 Kysucké Nové Mesto is surrounded by beautiful nature of high mountains, creeks, forests and Kysuca River. The Kysuce Protected Landsacpe Area is one of the 14 protected landscape areas in Slovakia. The area of Rochovica, Brodnianka and Ľadonhora are located nearby the city.  The protected area Kysucká brána is located between Brodnianka and Rochovica Hills. There are many possibilities for hiking and vigorous walks. For recreational purposes, fishing, gardening and mushroom hunting are very popular. The Kysuce observatory located in Dolinský potok offers activities as observation of the starry sky and occasional observing of unusual sky phenomena and objects. The walkings along the Kysuca River banks  are also very popular.
Culture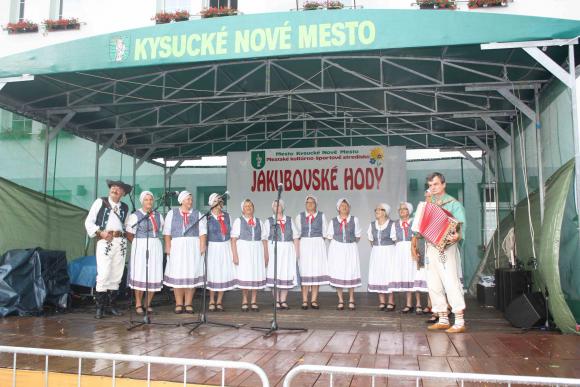 The mid-July St. Jacob fair days count as most popular event and attraction. The town square and nearby streets offer many stalls of craft, foods and handmade goods as well as fun fair with carousels. These are very popular especially among young adult generation. The program representing the cultural heritage is an important part of St. Jacob fair days. It is supported by local and twin cities artists, and offers diversity of both traditional and modern dance groups and folk music ensembles. 
Another one of the most popular culinary events is the so-called Najlepší kysucký guláš competition. It is held in the late September/early October. The competitors do their best while preparing their special goulash recipes, which are first properly judged, then tasted and finally consumed.
Insignia
The City Kysucké Nové Mesto has the right to hold and use emblems, which are: the Coat of Arms of the City Kysucké Nové Mesto, the Seal of City Kysucké Nové Mesto, the Flag of City Kysucké Nové Mesto and  the City Mayor's Insignia.
The Coat of Arms represents heraldic symbols of St. Jacob the Less. It consists of green shield charged with a silver St. Jacob statue in the middle, him holding a flax straw. The Coat of Arms of City Kysucké Nové Mesto with its hagiographic motif of St. Jacob the Less is dated back to 17th century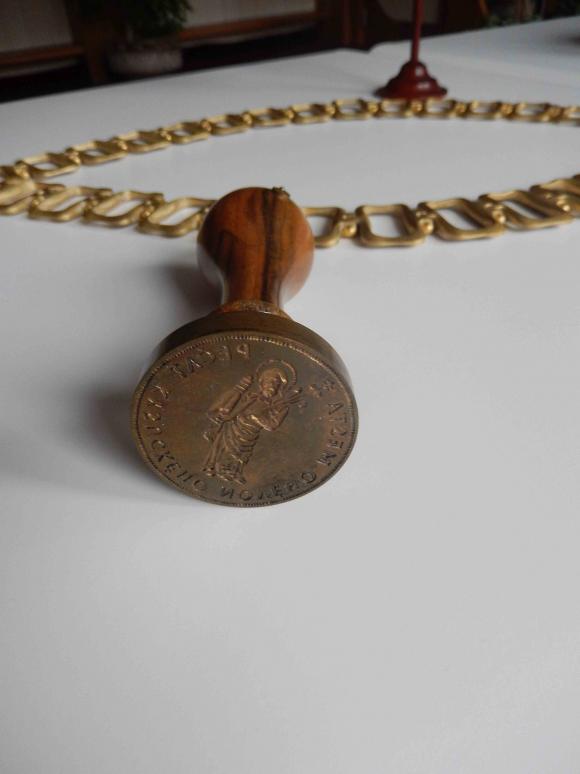 The Seal of City Kysucké Nové Mesto
The origin of the Seal of City Kysucké Nové Mesto is dated back to 1416. It represents St. Jacob the Less, the patron saint of linen-weavers. He is holding a flax straw covered by heavy cloth and bears an inscription stating SIGILIUM: DE: NOVA: CIVITATE. Original silver seal was located in the town hall of Kysucke Nove Mesto till 1938. Currently, the seal is located in the  Slovak National Museum in Martin.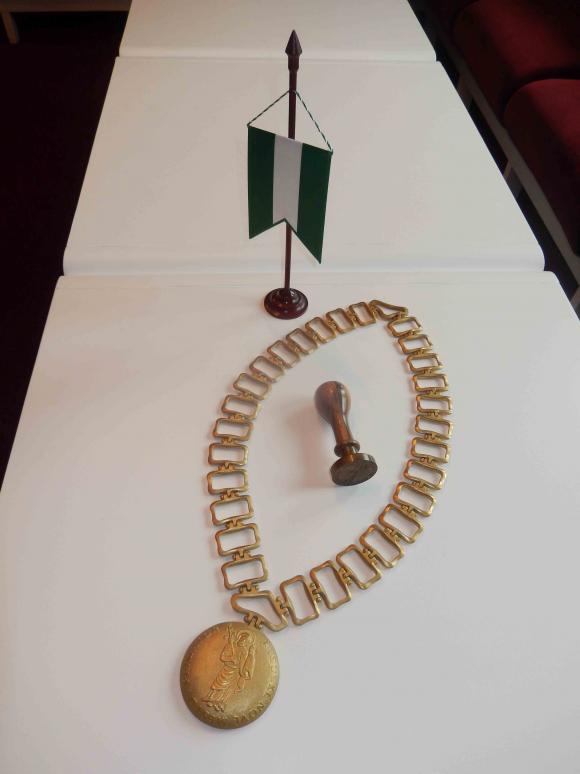 The Flag of City Kysucké Nové Mesto
The snipped banner is divided in stripes of green, white, green.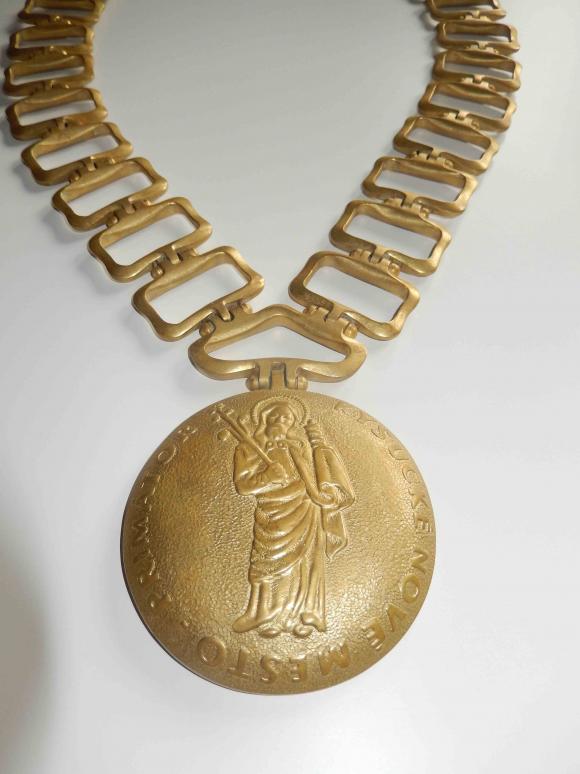 City Mayor's Insignia
The City Mayor's  chain wears a badge enscripted The Mayor of Kysucke Nove Mesto.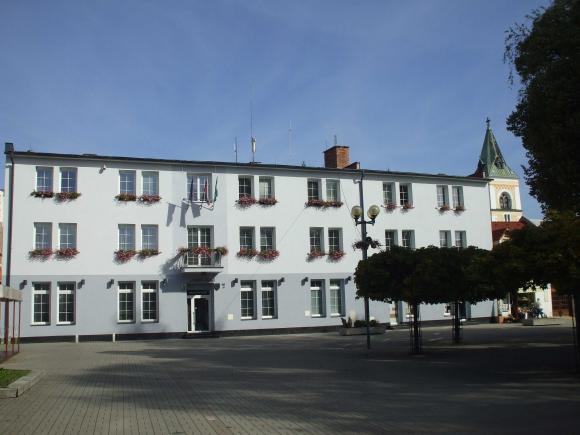 Contact
adress:
Mesto Kysucké Nové Mesto – Municipal office 
Námestie slobody 94, 024 01 Kysucké Nové Mesto

Telephone: +421414207232
ID No.: 00314099
Tax ID: 2020553095
web: www.kysuckenovemesto.sk

e-mail:
Mayor: primator@kysuckenovemesto.sk
Filling room: podatelna@kysuckenovemesto.sk
Information: informacie@kysuckenovemesto.sk
Responsible for the web content: informatik@kysuckenovemesto.sk

Office hours of the municipal office departments:
Monday 07.00 - 11.00    12.00 - 14.30
Tuesday 07.00 - 11.00    12.00 - 14.30
Wednesday 07.00 - 11.00 12.00 - 16.30
Thursday unpaged day
Friday 07.00 - 12.00

Technical support:
WEBYGROUP s.r.o.
Nižovec 8936/2a
960 01 Zvolen
www.webygroup.sk
Competencies
Zverejnené 5.2.2019 -ds-
Aktualizované 24.4.2019

Allgemeines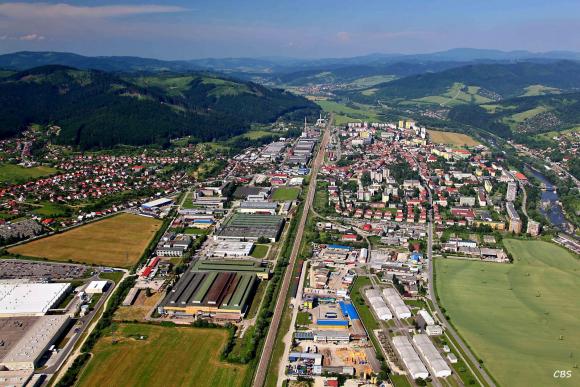 Die  Stadt Kysucké Nové Mesto liegt am rechten Ufer des Flusses Kysuca im nordwestlichen Teil der Slowakei (etwa 358 m.ü.M). Dieser Bereich ist geographsich zu Javorníky Gebirge und Kysucká vrchovina Gebirge mit der Höchsthügel Ľadonhora (etwa 999 m.ü.M) zugeteilt. Die Tábor Hügel bildet eine markante Stadtdominante. Die Stadtfläche bedeckt etwa 2641 ha mit 15 163 Einwohnern. Zum ersten Mal wurde die Stadt schriftlich im J. 1254 erwähnt.
Das Stadtzentrum gehört zu den meistbesuchten Bau- und architektonischen Sehenswürdigkeiten. Die Häuser mit Bogen-Lauben, die sich auf dem viereckigen Stadtplatz befinden, stammen aus dem 17. Jh. Das zweistöckige Haus Nr. 164, das direkt in der Mitte der Stadtplatz steht, wurde ursprünglich im Renaissancestil aufgebaut. Nebenan steht auch die Statue des heiligen Johannes Nepomuk von 1761. Auf dem Stadtplatz fanden die wöchentlichen Märkte und Jahrmärkte statt. Das traditionelle Jakobsfest, das bis heute gefeiert ist, wurde zum ersten Mal im J. 1666 erwähnt.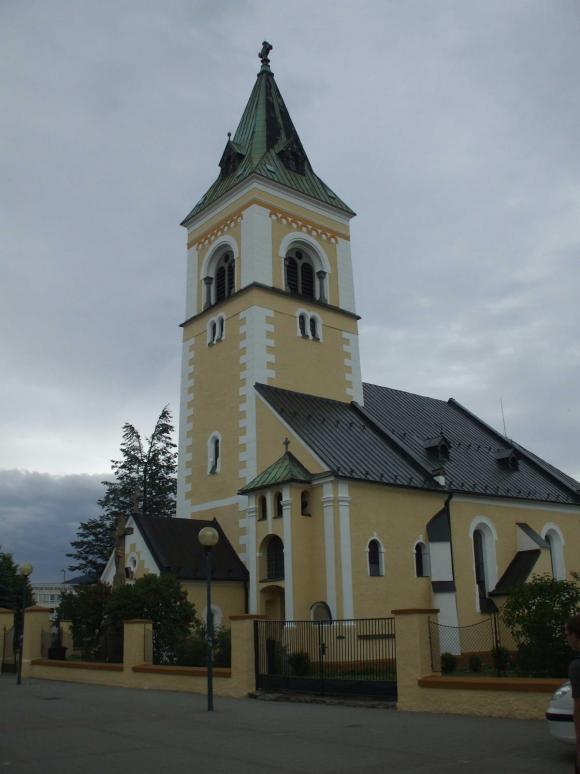 Die Jakobskirche ist ein Kirchengebäude der Gotik. Sie ist die älteste Kirche im Kysuce Gebiet und wurde im J. 1284 gebaut. Im J. 1431 wurde die Kirche von Hussiten und im J. 1904 beim Stadtbrand zerstört. Renoviert wurde das Kirchengebäude in Neuromanik im J. 1906. In der Seitenkapelle befindet sich die Statue der Kreuzigung Jesu aus dem 18. Jh.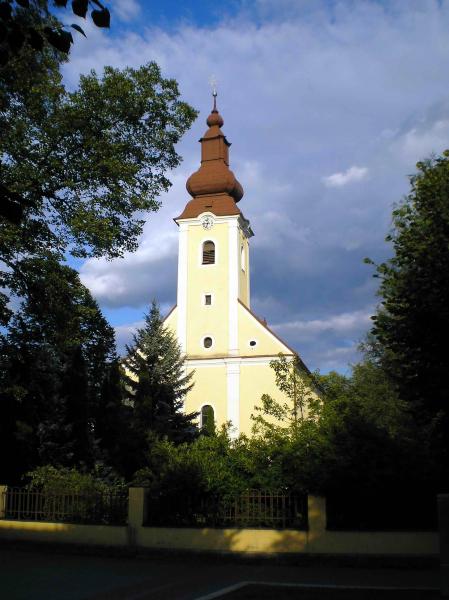 Die Marienkirche wurde im J. 1817 aufgebaut. Im Chorraum der Marienkirche findet man das Freiherr Kubica Wappen. Das römisch-katholische Pfarrhaus wurde im J. 1332 aufgebaut und diente als Kirchenamt seit 1666. Zerstört wurde sie beim Stadtbrand im J.1906.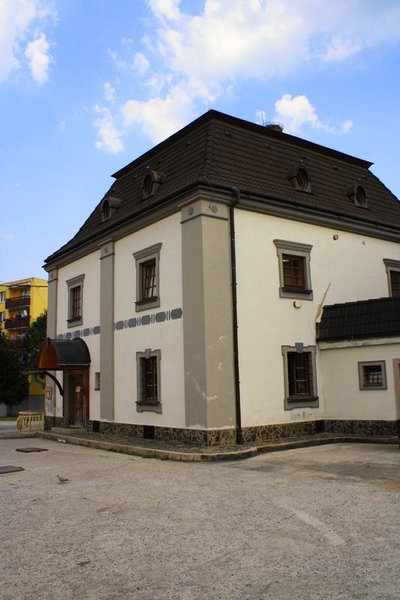 In der Jesenskystrasse Nr.4 findet man die zweistöckige Bierbraurei "U Bociana", die in der ersten Hälfte des 17.  Jh. gebaut wurde. Ursprünglich ist die Brauerei ein Gebäude der Spätrenaissance. Sie wurde  mehrmals umgebaut und man kann dort Sgraffito-Malereien bewundern. In der Belanskystrasse findet man mehrere Barockhäuser, die im 17. Jh. gebaut wurden.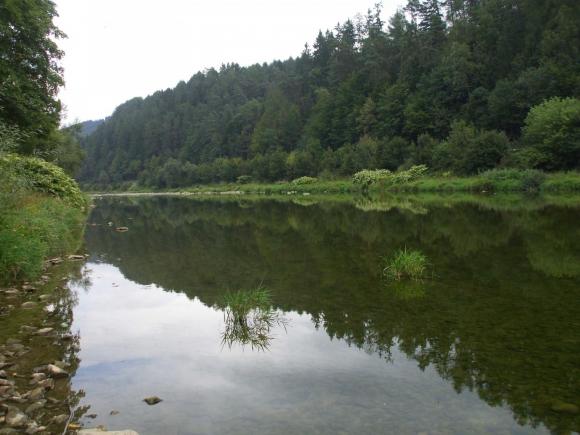 Die Umgebung der Stadt ist reich an Naturschönheiten. Sie bietet hohe Gebirge, interessante Pflanzen- und Tierwelt, Wälder, Flüsse und Täler an. Rochovica, Brodnianka und Ľadonhora sowie Kysucká brána sind ein besonderer Teil des Landschaftsschutzgebietes Kysuce. Die Stadt und ihre Umgebung bieten den Besuchern reiche Erholungsmöglichkeiten an. Fischfang, Sport und Radfahren, Gärtnern und Pilzsaison soeben wie  ein angenehmer Spaziergang entlang des Flusses Kysuca sind besoders beliebt. Die Nachtvögel finden sicher ein Vergnügen bei Sternbeobachtung in der Kysuce Sternwarte "Na Podstráni".
Kultur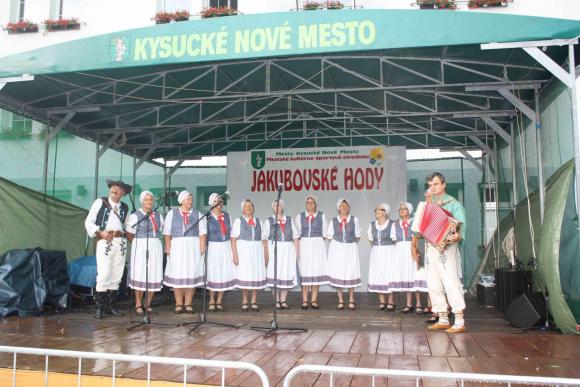 Ende Juli wird das beliebte Jakobsfest gefeiert. Das Fest wurde nach dem Stadtpatron, Jakob der Heiligen, benannt.  Das Stadtzentrum ist voll von Handwerkern und bietet auch ein Schlemmergenuss an. Das Jakobsfest ist ebenso reich an Kultur. Die einheimische Kunst-, Tanz- und Musikzirkel sowie ihre Partnerstädtekollegen erfreuen mit ihren Talent ein reiches Publikum.
Ende Herbst warten alle Schlemmer auf ein spezielles Fest: Das beste Gulasch der Stadt. Die  Wettbewerber nehmen dieses Fest besonders ernst, denn jetzt haben sie die Möglichkeit, ihre Kochkunst zu zeigen. Jedes Gulasch wird von der Jury bewertet. Und dann – Mahlzeit!
Kontakt: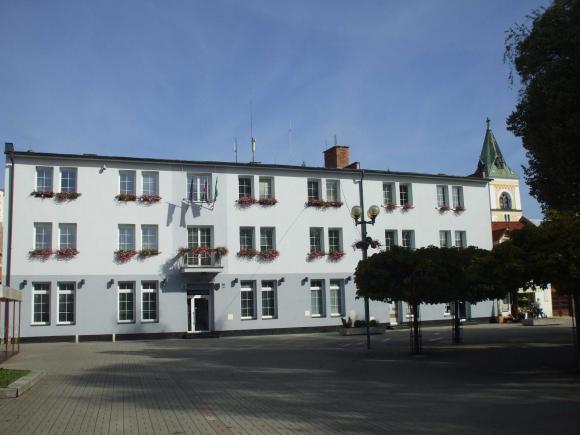 Adresse_
Mesto Kysucké Nové Mesto – Stadtbüro 
Námestie slobody 94, 024 01 Kysucké Nové Mesto

Telefon: +421414207232
ID Nummer.: 00314099
Steuernummer: 2020553095
web: www.kysuckenovemesto.sk

e-mail:
Bürgermeister: primator@kysuckenovemesto.sk
Sekretariat: podatelna@kysuckenovemesto.sk
Informationen: informacie@kysuckenovemesto.sk
Verantwortlich für den Webinhalt: informatik@kysuckenovemesto.sk

Sprechstunden der Abteilungen:
Montag 07.00 - 11.00    12.00 - 14.30
Dienstag 07.00 - 11.00    12.00 - 14.30
Mittwoch 07.00 - 11.00 12.00 - 16.30
Donnerstag --
Freitag 07.00 - 12.00
Technischer Support:
WEBYGROUP s.r.o.
Nižovec 8936/2a
960 01 Zvolen
www.webygroup.sk
Zverejnené 24.4.2019 -ds-